How to Make Your Own Brown Stew Chicken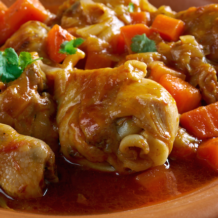 An awesome meal to try out if you're looking to get into making your own Jamaican food is brown stew chicken. Brown stews are relatively simple to cook, and deliver a lot of complex flavor for your efforts. This was one of the first recipes I tried myself, and I've been hooked ever since! Here's how to make your own…
What you'll Need
1 small whole chicken, cut into portions
1 large tomato, chopped
3 – 4 stalks scallions, chopped
1 large onion, chopped
2 garlic cloves, chopped
1 hot pepper, chopped (scotch bonnet)
1 carrot, chopped finely
1 lime or 1/4 cup lime juice
2 tsp. JCS Dry Thyme
1 tsp. JCS Whole Pimento
2 tablespoons CPC Mushroom Soy Sauce
2 cups JCS Coconut Milk
1/2 tablespoon flour
1 tablespoon JCS Coconut Oil
2 tbsp. JCS Browning
Cooking Instructions
To begin, squeeze your limes and rub the lime juice all over the chicken. Drain off the excess juice, and add the onions, garlic, pimento, pepper, scallions, mushroom soy sauce, and thyme into a large bowl along with your chicken.
Cover the bowl and let it marinate for about an hour. Then heat the coconut oil in a big saucepan or a dutch pot. Shake the extra seasoning off the chicken as you move it into the pan to brown. Put the remaining marinade aside for the sauce.
Lightly brown the chicken on high, and let them rest for a few minutes before returning them to the hot pan.
Add the marinade and the carrots, and then lower the heat to medium. Stir regularly to keep it from burning and let it cook for about 10 minutes. At this point, you'll mix the flour into the coconut milk, and slowly add it to the sauce as your stir.
Once that's done, drop the heat to low, cover the pan, and leave it to thicken. After about 20 minutes your chicken should be tender, and your dish will be ready to eat.
I hope you enjoyed the recipe, remember to check back for more!